Time to manage your server's support-requests efficiently
With SCNX you can easily create your very own Modmail-Bot running one of the worlds most advanced Discord-modmail-Bot-Software
Ticket-Topics
Categorize Tickets & assign the right people
Claiming
Stop spamming in tickets - assign users to them
Snippets
Write less faster using snippets
Feedback
Get feedback from your users
What even is a Modmail-Bot?
Modmail-Bots on Discord have been around for a long time and were mostly inspired by Reddit's Modmail-System. These bots essentially work as a layer between the staff of a discord-server and users. If the user messages the bot, a new Channel will be created containing the user's message. Staff can respond there and responses will be sent back to the user.
Typical Support-Requests
A user messages the Modmail-Bot
Modmail-Bot creates a new staff-channel and relays all messages from the user there
Staff-Members can chat with the user and resolve their request
Once done, the Staff-Members can close the ticket and the Modmail-Bot deletes the channel
Basic features
Our Modmail-Bot has been built - as all our services - with the goal of the best user-experience in mind. To archive this we've added a lot of Quality-of-Life-Features and optimizations.
Users can open tickets and staff can respond
Ticket-Close with close-reasons
Full support for attachments (both user and team)
Welcome- and Close-Messages
Fully customizable Message-Display
Full ticket-logs of all conversations
Easy-to-Use Slash-Commands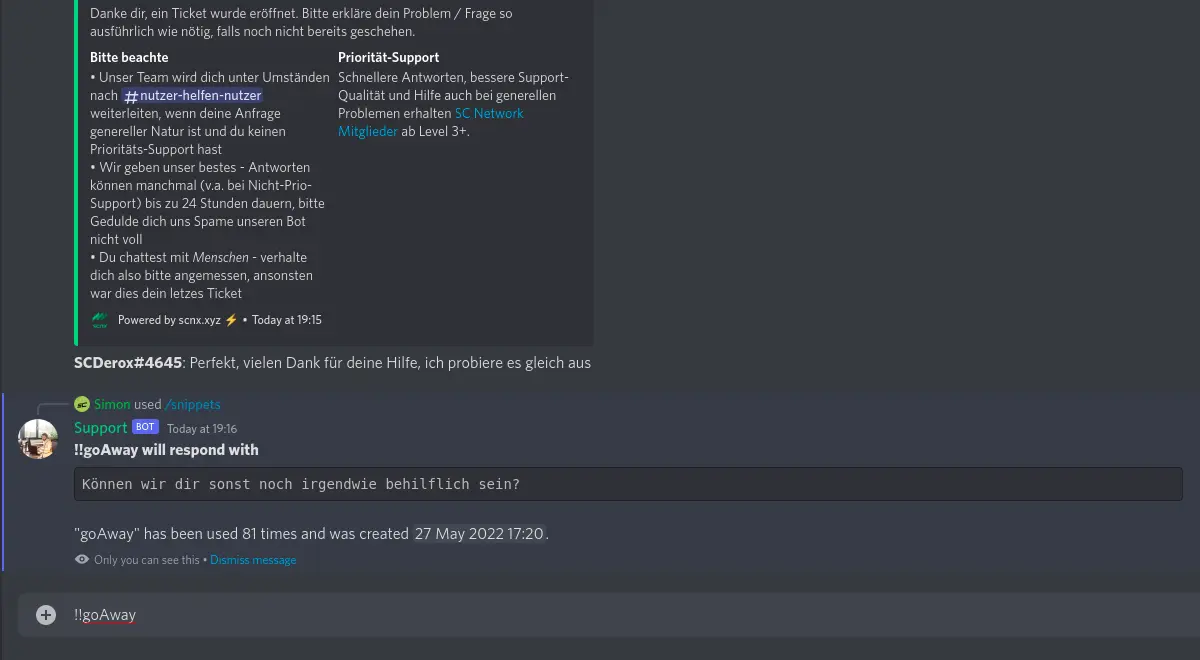 Write less faster using snippets
If you are tired of explaining the same thing to twenty people, simply create a snippet. After creation, you can use the corresponding key in any ticket and the user will receive your full, saved message - way smarter and easier than copy-paste.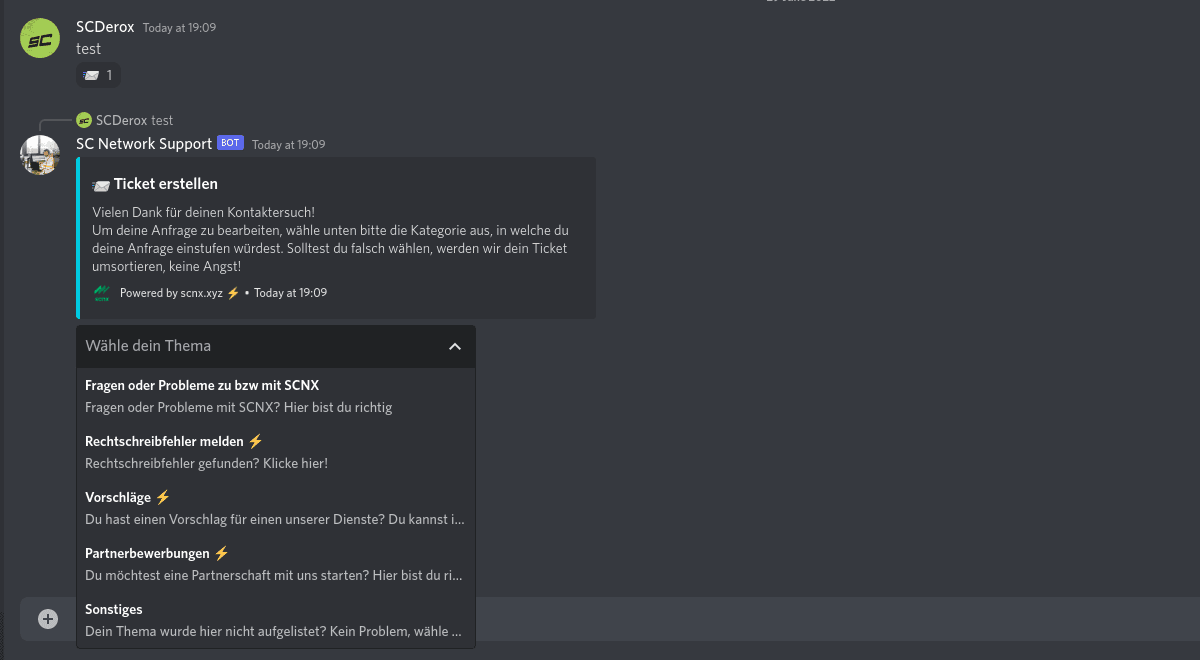 Categorize Tickets & assign the right people
Using our Ticket-Topics-System, your users can decide the category of their ticket - depending on the configuration, the bot will adjust visibility, ping and messages to the right category - we even support FAQ-Entries and staff members can move between categories. You can also completely disable Ticket-Categories, if you want.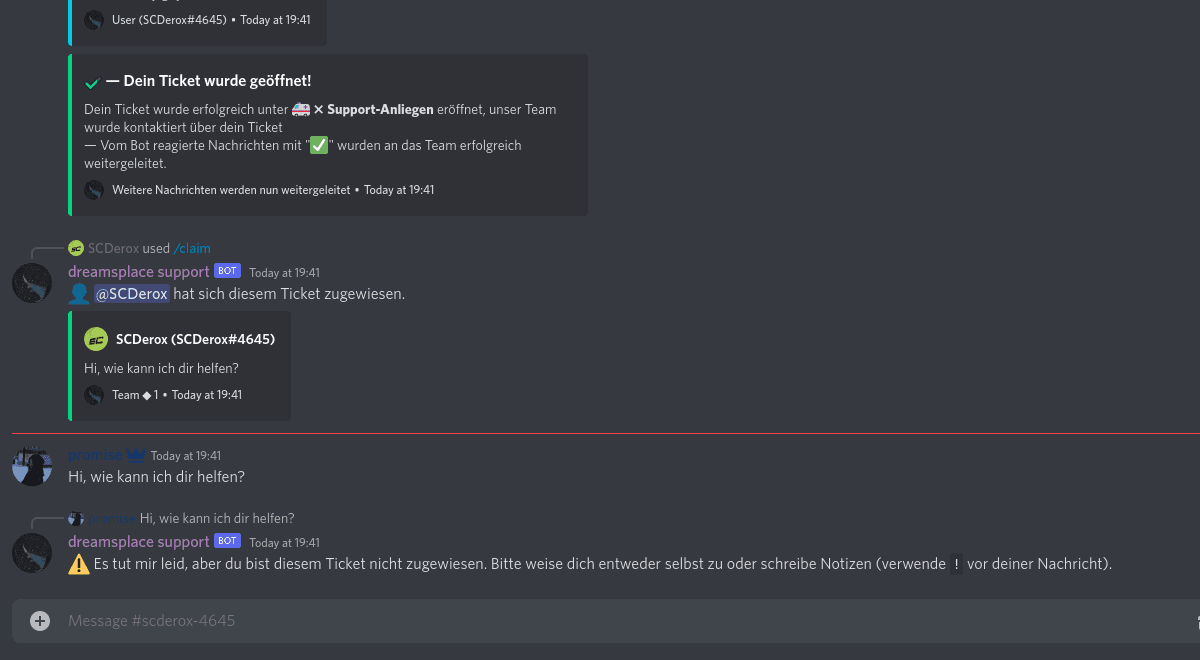 Stop spamming in tickets - assign users to them
With your own Modmail-Bot, you (or your staff) can easily assign specific team-members to tickets - only the assigned staff-member can then communicate with the user - reducing spam and improving customer experience.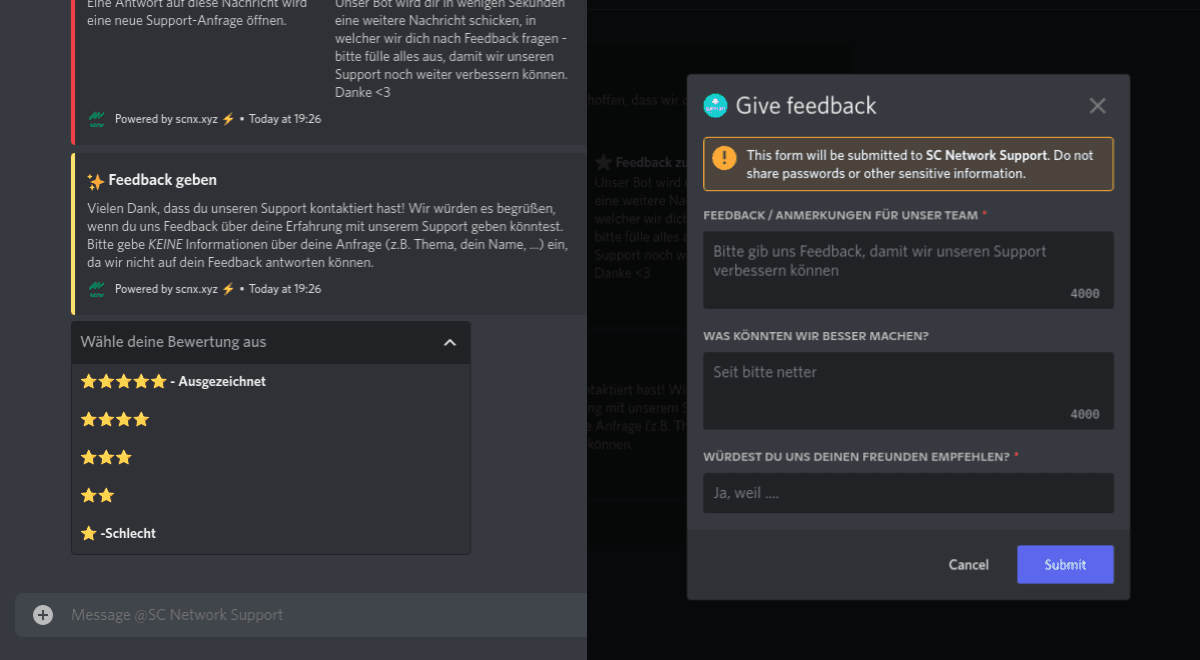 Get feedback from your users
With your SCNX Modmail-Bot you can enable that users get asked, after their got closed, how they would rate the support - you can even ask custom questions and customize appearance - pretty useful if you want to built the best customer-experience out there - we even support completely anonymized feedback.
Your Modmail-Bot will be in good company!
SCNX started back in 2020 with hosting Modmail-Bot for customers - we've improved since and are always working on getting even better! We are already hosting thousands of bots and your very own Modmail-Bot could be next!
Fast setup
Due to our highly efficient architecture, bots will be running within seconds after finishing onboarding
High uptime & quality infrastructure
Our modmail-bots have an uptime of almost 100% and are efficiently hosted on high quality servers
Easily configurable
While they are a lot of features for Modmail-Bots, they be easily changed in our SCNX-Dashboard.
We are cheaper than most alternatives!
While other providers love to charge high rates for custom instances of their software with less features, we offer a way better pricing & features - plus: plans additionally include other features like backups.
Unlock with Active guild
Create your very own Discord-Bot running one of the worlds most advanced modmail-bot-software
All features mentioned on this page included
This plan is free for guilds meeting our activity-requirements, otherwise only 3.00€ / month.
SCNX has far more features - compare them all and find what's suitable for you