Make your community-server even better!
Stop using ten or more different discord-bot and replace them with one bot - your bot.
But what is SCNX?
SCNX is a programm for community discords consisting of a lot of features designed to improve both community- and staff-experience.
Create your very own Discord-Bot - for free
With SCNX you can create & host your own Discord-Bot - 100% configurable and for free
Customizable Profile-Picture, Bot-Name and messages
More than 30 different modules available
Send embeds and messages as your bot and add self-role-elements
Free hosting with branding / Branding-Free-Version available for paying customers
Manage Support-Request efficiently with your own Modmail
More features and easier usage compared to public modmail bots
Customizable Profile-Picture, Bot-Name and messages
Ticket-Topics, Support-Feedback & Ticket-Claiming
Message-Replies, -Edits and -Deletions supported (team & users)
Dashboard
Easily create, manage and configure your Bot in our Dashboard
Our dashboard - scnx.app - was built to ensure easy usage and works on all devices with a supported browser - no installation required
Works on all devices with a supported browsers
Efficient, responsive and easy to use
Installable (as PWA) on supported devices, but not required
Available in 2 different languages - with more coming soon
Maintained and updated frequently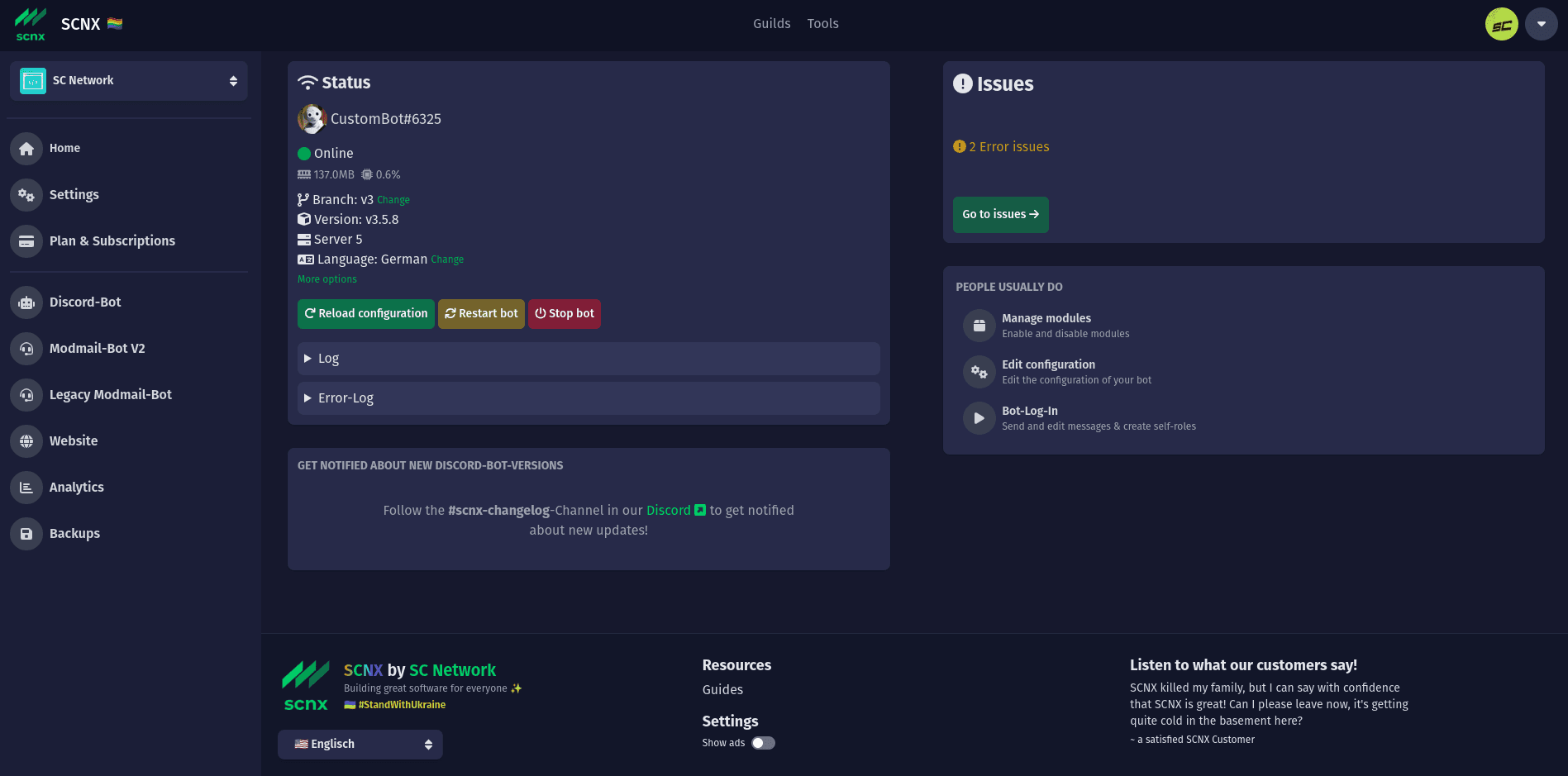 Hosting
Why you should host your bot at SCNX
Efficient software & hosting
Each bot has an assigned RAM value and is built to be as efficient as possible.
Distributed infrastructure
We have 6 different servers across Germany hosting over a thousand bots.
Trusted by more than a thousand communities
SCNX has been in business for 2 years hosting thousands of bots reliably for thousands of communities
High uptime
Hosted bots almost have an up-time of 100% and we are doing our best to keep this that way.
Established providers
Every one of our potential hosters need to fulfill strict requirements in points of reliability, safety and privacy.
Bot-configuration & -data backed up
Even if one of our bot-hosts fail we are able to restore your bot's data & configuration to a full extend.