Make your Discord stand out from the crowd

Ultimately customizable, made for Community-Discords and easy to use with setup in seconds.
& more.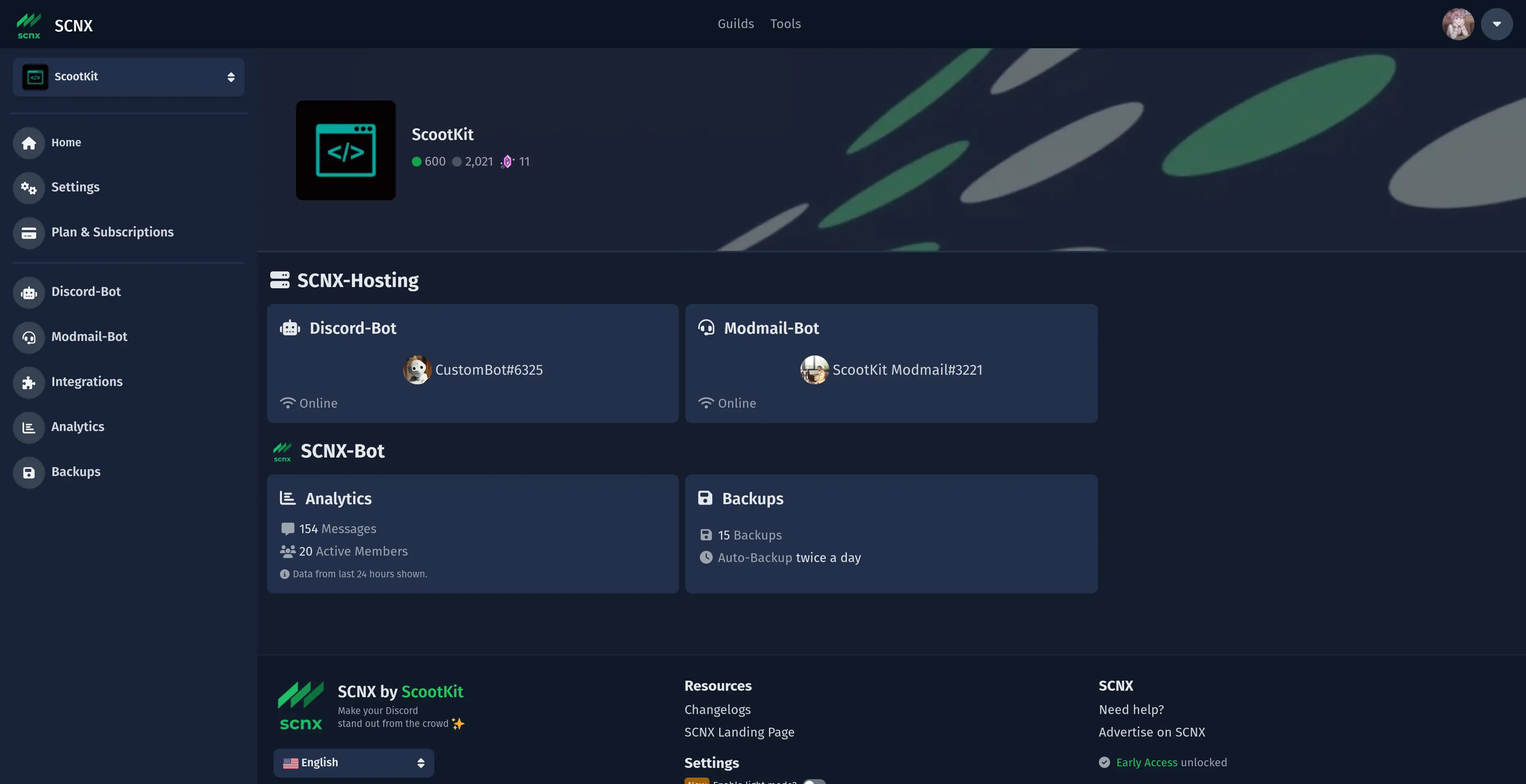 The
all-in-one-solution

for growing communities
Fully customizable Discord-Bot for your community
Create a Discord-Bot for your community on SCNX - you can customize everything: Even the profile and name of the bot.
Built-In-Self-Roles
Message-Editor with Embeds
Custom-Commands
Regular updates
Fully customizable
Free-Version available for ever, learn more about pricing.
The world's most advanced Discord Modmail-Bot
It's time to manage support-requests on your Discord efficiently with the world's most advanced Modmail-Bot - you can customize everything: Even the profile and name of the bot.
Ticket-Topics
Support-Reviews & Feedback
Ticket-Assignments
Open Tickets via Buttons
Forms via Discord-Modals
Snippets
Opening hours
Regular updates
Fully customizable
Starting at only €3.00 / month, or even cheaper with yearly pricing.
Any questions or ever in need of help?
Our friendly staff, verified community helpers and other experienced SCNX users are always available to assist you with your issues - directly on our Discord.
In addition, our extensive documentation is always available - you can solve most problems in a matter of minutes.
SCNX is used by thousands of communities
SCNX is actively being used on thousands of, mostly German, community servers and users - basically without any marketing. They are loving the customizable and features SCNX offers. You could be next, it's completely free!
9.5K+
Registered users,
3.1K+ active in the last month
8.2K+
Registered servers,
3.9K+ active in the last month
7.4K+
Bots created,
4.1K+ active in the last month
99.9%
Historical Bot-Hosting Uptime
on 8 different servers
Cheap and fair pricing
Most users never pay a dime to use SCNX on their servers. But hosting thousands of bots for free is expensive. But our cheapest premium plan starts at a price of a coffee, so everyone can afford it.
Active guild
€3.00
/ server / month
PRO
€6.00
/ server / month
Completely remove SCNX branding
Commercial usage allowed
Hosting
Why you should host your bot at SCNX
Efficient software & hosting
Each bot has an assigned RAM value and is built to be as efficient as possible.
Distributed infrastructure
We have 6 different servers across Germany hosting over a thousand bots.
Trusted by more than a thousand communities
SCNX has been in business for 3 years hosting thousands of bots reliably for thousands of communities
High uptime
Hosted bots almost have an up-time of 100% and we are doing our best to keep this that way.
Established providers
Every one of our potential hosters need to fulfill strict requirements in points of reliability, safety and privacy.
Bot-configuration & -data backed up
Even if one of our bot-hosts fail we are able to restore your bot's data & configuration to a full extend.
Get started with SCNX today - it's free!
Join the over 5K servers already using SCNX and upgrade your server to the next level!